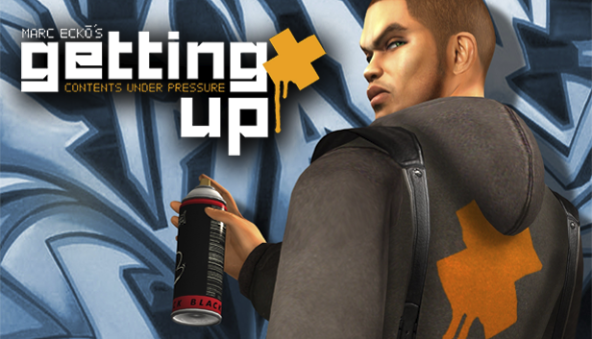 Devolver Digital Releases Marc Eckō's Getting Up: Contents Under Pressure On Steam
Now Half Off, Still Hella Cool
Before Banksy was selling art in Central Park for 10 bucks a pop, graffiti artist and pop culture icon (and hella nice dude) Marc Eckō released Getting Up: Contents Under Pressure in 2006 to much fanfare on Xbox, PS2 and PC. Now, fans of yesteryear can nab this bad boy for just £5.99 (half off the regular £11.99 price tag) as Devolver Digital, purveyors of fine indie content, have propped it up on Steam: http://store.steampowered.com/app/260190.
Play as Trane, a "toy" graffiti artist with the street smarts, athletic prowess and vision to become an "All City King" – the most reputable of all graffiti artists. Along your quest, uncover the mayor's deep, dark secret and use your fighting talents and high-wire graffiti to expose the city's leader as a corrupt tyrant.
As you struggle to save a neighborhood from an oppressive government, one question stands out: What if graffiti could change the world? Risk your life battling city authorities and rival graffiti gangs – mere obstacles in your attempt to get your tag up. And in this city, not just any tag will do. You have to "Get IN, Get UP and Get OUT".
"As we plan the next evolution of our beloved franchise, we are excited to re-release the original Getting Up to a new audience via Steam in partnership with Devolver Digital, said Marc Eckō."Devolver Digital has released every cutting edge game I have played in the last year, and I could not think of a better partner."