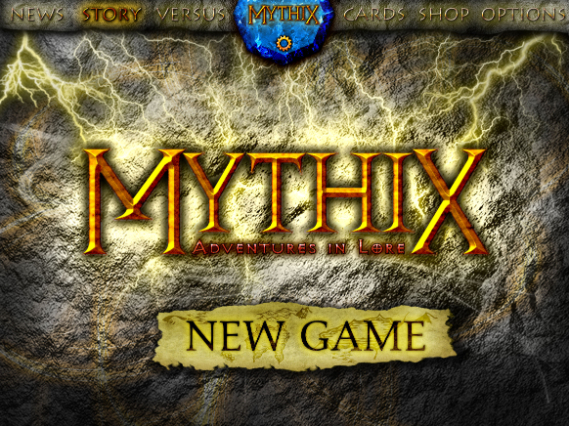 You Alone Must Set Right The Ancient Myths Of The Greek, Egyptian, Celtic & Norse!
Independent games developer 'AlgoCrunch' is proud to announce the forthcoming release of their most ambitious and impressive title to date – 'MYTHIX: Adventures In Lore'. Created by the same team who brought you the popular Operation: Save Skiz, Word Fusion and Aqua Burst, MYTHIX is a groundbreaking trading card game for iOS® scheduled for a fall 2014release, aiming to set new standards for the genre!
Currently in development, and with a possible crowdfunding campaign to follow, MYTHIX takes place in a time before all things featuring a group of beings known as the MYTHIX. Being creators of reality itself, and responsible for the four most important things in the universe – Life, Death, Power and Instinct – the MYTHIX hungered for power. Each created a storyline to represent their purpose, stories worshipped by the primitive peoples of earth through Greek, Egyptian, Celtic and Nordic myth. Over time the MYTHIX became drunk and blinded by desire for power, and thus, as foretold in a great prophecy, an evil force unseen corrupted the story lines, and in the process human's belief. Using all of their combined remaining energy, the MYTHIX recruited a mortal champion and imbued him with their power to fix the story, restore mankind's belief, and raise them to their former glory! You, the chosen Champion, must help the great MYTHIX regain their strength, restore belief in the myths and reinstate balance. Should you fail, evil will rise up and destroy all of the great myths causing time itself to unravel. Prepare yourself for the greatest journey of your life!
In the game, the Combat System is similar to what you have come to expect in an MMORPG raid. There are "defenders" which act as the tank, "attackers" which act as the main source of damage, and "healers" which act as support for your summoned creatures. Combat is fluid and constant, and each party member needs to perform their role effectively in order for the group to survive. There is no attack phase, but rather a dynamic combat zone where the battle unravels as the clock ticks. Resource Management plays an important role in the game. MYTHIX and the power behind them stem from belief. This is the same force that will give you the ability to summon creatures, gods and spells to help you in your fight. Each card generates a certain amount of belief from its abilities. Generally speaking, a card will generate the type of belief based on the myth it is derived from; Greek, Celtic, Norse, or Egyptian. Can you become the ultimate hero and master all four myths at once?!
Featuring fast paced real-time gameplay, immersive and accurate real myth story lines, an advanced and impressive Deck Builder, and a really cool Avatar System, in which you can collect gear for your characters, MYTHIX has it all … and more! With its advanced and realistic AI-System, designed to mimic real-life decision making, you will feel like you are playing against a real human at all times. But there is more. MYTHIX features an online multiplayer feature with several options of play: You can do a normal battle where you play to destroy your opponent. You can play a wager game where the stakes are higher but the rewards greater, or you can even the playing field in an "open box challenge". Using a flexible Matchmaking System you can challenge your friends over Facebook or pit yourself against a random opponent not only with similar skill level, but with similar quality cards! You can also compare your overall skill against the rest of the world using the online leaderboards, and see if you can become the ultimate hero!
'MYTHIX: Adventures In Lore' is scheduled for a fall 2014 release on iOS®
Hotlinks: