For many years the only way to play games on the move was with portable consoles such as the Sega GameGear and the Nintendo Gameboy. Then mobile phones began to incorporate small games such as the Snake and Tetris, but there was never really anything special that could occupy your time on a 6 hour flight to somewhere like Cape Verde or a 3 hour train ride from Chester to Cardiff. However as consoles have developed through the years with the likes of Nintendo releasing the world's first 3D handheld gaming device, mobile phone and tablet manufacturers were also improving their hardware to allow for bigger and better games to be supported on them. Now games such as FIFA, Grand Theft Auto and XCOM: Enemy Unknown which were once exclusive to consoles and PCs are now available on your mobile devices as well. This has improved gaming on the move drastically as it means you no longer have to take numerous devices on your travels but can instead just take a phone or tablet that can do everything from playing AAA titles and indie games, listening to music, watching films and browsing the web.
The only issue for some people is they struggle to cope with some touch screen controls on these devices and others just don't want to look like an imbecile in public by tilting their iPad from side to side as they race a car around a track. But how do we find a way around this problem? Well thanks to SteelSeries and their stratus wireless gaming controller you can say bye-bye to those pesky touch screen controller settings. That's right, SteelSeries are taking mobile and tablet gaming to the next level by releasing a purpose built controller specifically designed to work through Bluetooth with devices that have iOS7 installed. Whether it is your iPad, iPod or iPhone that you game on you can now play games with a controller designed to have that console feel while having the same portability you find with your mobile gaming devices.
Now the stratus wireless controller looks a sexy bit of kit; it comes in both black and white so for you fashion conscious people out there it's ready to match your other apple devices as the perfect gaming accessory. Its shape reminds us of a modernised mini Megadrive pad that is roughly the same size as an iPhone making it small enough to fit in your pocket, while the button design feels like a cross breed baby of an XBOX and Playstation controller but with buttons being pushed closer together to keep the controller small and compact. The only issue with the controller being made so compact is that I found the L1, L2, R1 and R2 buttons to be far too close together making it easy to hit the wrong one and possibly ruin whatever good streak you had going mid game. But apart from that the rest of the controls seem to work perfectly thanks to SteelSeries pressure sensitive buttons to allow for what they call the ultimate analogue control. As for the comfort of the game pad it fits nicely into your hands, but fits better when you remove the protective case that comes with it from the front and add it to the back because it is designed ergonomically to fit the grooves of your hands to provide added comfort and extra grip.
The controller also has a few other decent features about it; one of the main ones being its 10 hour battery life which allows for you to continue gaming even on the longest of journeys and what's more is it will only take you a 1/5 of that time to charge it up with the USB charger that is supplied. In addition to that, certain titles will support up to four, yes FOUR, controllers to one screen. Now this probably isn't the best idea if playing on the iPhone as you'll only get sore losers saying they couldn't see properly and that's why they lost, but get it on an iPad and you'll be able to have a decent little gaming session without the need to have a big clunky console to plug in somewhere.
Now there are a few downsides to this controller, first of all being the fact it is a pricey bit of kit. Yep for this sweet little controller you're looking at paying a whopping £70 including postage, so unless you do play a lot of games on your mobile devices at home or on the move it is probably a little steep to justify buying it. It's even harder to justify when you think the controller is the same size as an iPhone/iPod and I didn't really feel it was worth having a controller for a device with such a small screen, I mean sure it made playing some games easier but it didn't seem practical. On the other hand it really does suit tablets whether it's on the iPad or iPad mini because in my opinion the bigger screen allows for a better gaming experience, it even reminded me of the old PSone that came with a small screen to allow you to play it in the back of your car.
I should also note that as it stands there are only 192 games that are compatible with the controller. That probably sounds like a lot, and realistically it is, but when you consider how many games are actually available on smartphones and tablets today it is only a small percentage of them. The good news is that from what is available, there is a good mix of both big name titles such as Grand Theft Auto and some brilliant little indie games as well, my personal favourite had to be Asphalt 8: Airbourne. A full list of compatible titles can also be found on the SteelSeries website (http://faq.steelseries.com/questions/526/What+iOS+games+are+compatible+with+the+SteelSeries+Stratus+Wireless+Gaming+Controller%3F) and it has more and more games being added to it all the time.
So is it really worth buying? Well although this is a great bit of technology that definitely takes gaming on smartphones and tablets to the next level, it really comes down to how badly you want the stratus wireless controller and how much time you spend gaming on your phone or tablet as to whether it is really worth purchasing or not. If you like your gadgets and do spend a lot of time gaming with your mobile devices then I'd go with yes it is worth it. It's a lovely bit of kit that connects to your device easily through Bluetooth, that offers you a way to play games without pesky touch screen controls and allows multiple people to play at the same time on one screen. If you don't really spend that much time playing games on your iPhone or iPad then it probably isn't justifiable to spend £70 unless you have money to burn. I'd also say that it's more suited for playing games on a tablet than a smart phone as well, just because the larger screen makes for a better experience and you aren't going to strain your eyes as much. That's just my opinion on it though because in the end I guess it's really down to the individual buying it.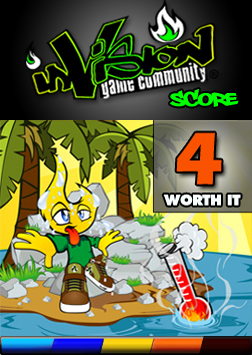 Disclaimer:All scores given within our reviews are based on the artist's personal opinion; this should in no way impede your decision to purchase the game.