I eagerly awaited the arrival of my Thrustmaster Controller, it is my first time in using one of their controllers and after the success I had with their headset I was quite intrigued; it had been a while since I got to play my PC games with one, and so it was quite an exciting time. Then it arrived in that wonderful packaging that you never seem to be able to open, *sigh*! After cutting my way through the plastic and my fingers I had the controller in my hands and ready to go. So here is how I thought it was;
It fit the grip of my hands like a glove, it felt natural to hold and didn't hurt to use for long periods of time. All round the look and feel of the controller were quite satisfactory, but as with any piece of hardware there were some things that could have been improved upon which I will mention slightly later. The Thrustmaster GP XID arrived in the colour white, which is the only colour available, so if you are weird like me and like your gaming equipment all the same colour, be careful.
The layout of the controller was set up like an x box 360 handset, which is very well liked within the gaming community. You have your Y, B, A, X buttons; a D-pad, windows shortcut button, stick controls and trigger buttons. All of which are easy to use and spaced apart to use easily enough with different sized hands. If you are not used to using controllers I think that you will find it easy to get used to how this one handles and works.
As soon as you plug the controller into your computer it is ready to use, even using it in a USB extension cable allows it to function correctly which was great for my set up. There was no installation needed, the controller working was indicated by the middle button (windows shortcut) lighting up as orange.
I only managed to test the controller with a few games, but I found it very responsive and it helped my game play improve a lot. The games I used it with were the Bridge and Psychonauts. The bridge only had minimal controls so it was a bit harder to see the control at its best but it did give me and easing in period to get used to it. When using it with Psychonauts however, a game that is not fully controller friendly (by this I mean it doesn't show you what control represents the PC control) I managed to understand its potentials a lot better than before.
I did have a few things that I thought could have done better, I won't go into too much detail but, I felt that the sturdiness of the controller wasn't that great. Personally I think it would break easily if dropped or knocked as it seemed a little flimsy. But as long as you take good care of it, like you should with any piece of hardware then it should be fine. I also would have loved there to be a choice of colour, it always adds to controllers "image".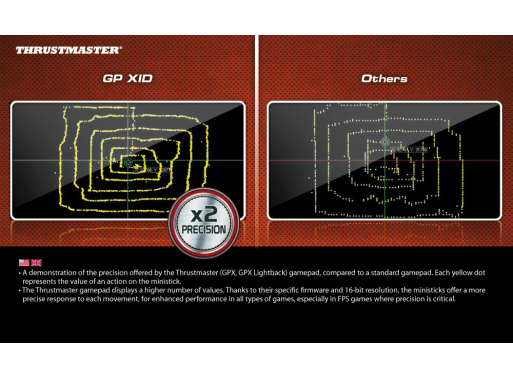 Pros:
–          Decent price for what you receive
–          Easy to use
–          Quick to install
–          Good shape design
–          Great precision
–          Very responsive to movements
–          Non slip grip
Cons:
–          Looks easily breakable (may not be though)
–          Only comes in white
Some Technical notes:
–          Compatible with windows XP, Vista, 7 & 8
–          Plug and play
–          Wired
–          13 buttons
I would defiantly recommend this controller to those who want something that is quick to start up and can be used straight away, although it is a controller that would be suitable for anyone from any game background to use. It is really nice to find a controller that is comfortable to hold for long sessions of game play.
Disclaimer:All scores given within our reviews are based on the artist's personal opinion; this should in no way impede your decision to purchase the game.