It's been 10 years since the release of the original Fable game. Since then we have the franchise spawn 2 successful sequels and seen 2 new consoles. So with the re release of Lionheads classic fantasy tale on the Xbox 360 with a new current generation make over the question on everyone's mind is how does it hold up against the original?
Well, personally to answer that question being a fan of the Fable franchise I would say very well. How and why does it hold up? Well, let's take a look.
If you're new to Fable or have played the second and third game the story of Fable Anniversary brings you to the beautiful world of Albion which sparks off the story of the whole trilogy. The on running theme of all 3 games is that you, yes you the main character and player are a hero that can ultimately save Albion. Fable 1 started off the choices and consequences style of gameplay that would effectively alter your character's appearance and morality to how you would play the game. Since then it has been used in its sequels and numerous other games.
You start the game off in the delightful old British style town of Oakville. It is your sister's birthday and your task or quest is to travel around the village doing as many good deeds as you can earn coins in order to buy your sister a birthday gift. It acts really as a tutorial for first time players, but for fans of the series it is really the pitching point of the game. Immediately you are thrown into nostalgia as you walk around the very same Oakville that you walked around ten years ago. Do the graphics hold up to the 360? Yes, they do, and very well. Lionhead has done a very good job on updating the graphics to the current generation hardware. Looking side by side at the Anniversary and the original you can see what a huge graphical difference 10 years can make. Of course, there are a few graphical glitches here and there and a mad look of the scary face on new rendered models and characters, but they can be ignored, as they don't affect your overall gameplay experience.
After collecting enough coins and buying the gift it is time to give your sister her birthday gift, and it is here that your Fable story truly begins. Oakville is attacked by bandits who set the village a lit killing anyone in their path including your parents. You managed to flee the town with the help of a stranger after learning the horrible truth. This stranger turns out to be a member of the hero's guild, which is where everything in the game revolves around from being able to pick up new quests, etc. At the time of Fable 1 there were many heroes, so if you have only played Fable 2 & 3 wondering why you are the only hero, Fable 1 will fill that void. From here you learn and train to be a hero. And its from here the gameplay element is properly introduced to the game.
You have two options for fighting controls at your disposal. If you are a fan of the original you can use the classic controls. If you haven't played the original and are used to the controls of fable 2 & 3 then have no fear, these controls have been adapted for use in the Anniversary edition, which makes the game feel great and is recognizable to a wider range of players. The morality system also comes into play when choosing quests. You can either choose or protect certain places and dependent on the outcome affects your overall morality of your character. You can also choose to do 'Boasts' at the start of quests. They are multipliers that you can add to the start of your missions to make them harder in order to gain more reward money if you complete them.
Unfortunately, there are certain elements of the gameplay that haven't transferred over well. The original game was built on corridor style level design from going from location to location which at the time was acceptable, but to be included now with a loading screen every few minutes feel unnecessary for the current generation hardware. Also in game camera feels clunky, snapping to the character every time you move around not feeling as fluid as its sequels. A downside for the gameplay is in its combat, it starts off great within the first few hours where you are getting to grips with the game, however, it becomes a tad repetitive, especially in the extremely long and tedious arena quest where you are continuously button mashing your way through. It sometimes feels easier and quicker to go through enemies only pressing the X button to get things over with even though it is less fun. The lock on to enemies is sometimes frustrating, often targeting far away enemies or friendlies, which leads into the poor dogging of attacks, where enemies are caught in a hit animation loop leaving you unable to strike.
However, despite these unfortunate setbacks the game does have its redeeming qualities. The menu system is well designed making it easy to show each part of your inventory, the map and your skills. Most of all Fable Anniversary captures the essence of what made the original game great and fun to play and that is just being in Albion. Its beautiful landscape is amazing to look at and to traverse. The beautifully and well-crafted dialogue adds to a sense of humor that you would not find in most fantasy role playing games, made even more hilarious and well timed by truly British accents. It's just wonderful to roam around while traders and villagers applaud you after a fun day questing. You can also buy titles for yourself and dependent on which title you have chosen villagers and characters in the game will call you with it.
Overall, Fable Anniversary is an overall fun and enjoyable experience both to new players and fans of the franchise, offering in that nostalgic element and witty humor to make it a unique experience. Yet despite all these contributing elements, there are just a few too many technical glitches that make it just shy of being a greater Anniversary game. Overall, Fable Anniversary gets a well deserved 4 out of 5 earning is place in the ongoing Fable franchise.
Fable anniversary is available for Xbox 360 from all game retailers including Xbox live Marketplace.
About the game from the developers
Forge a hero based on your actions: age and evolve a hero or villain through the actions you choose and the path you follow-be it for good, evil, or in-between.
Build your living legend: Through deeds and actions, build a name for yourself across the land. Recruit allies and followers. Gain glory or notoriety. Who will you be?
With an entirely new lighting system, slick new interface, all new textures, models and gameplay, Fable Anniversary is the full HD, definitive Fable experience.
Fable Anniversary includes all-new Xbox 360 exclusive content, including Achievements, The Lost Chapters and Xbox SmartGlass™ integration.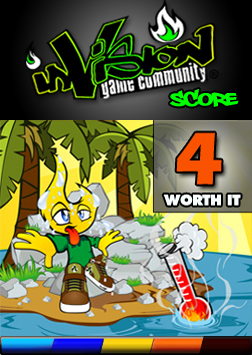 Disclaimer:All scores given within our reviews are based on the artist's personal opinion; this should in no way impede your decision to purchase the game.