The gang are BACK this time in glorious HD. The Kingdom Heart HD 1.5 ReMIX is final available on the PlayStyation 3. For people that love this game it's going to be one hell of nostalgia trip but for those people that didn't get a chance to play this marvellous game (such as myself) then you will be in for one hell of a game. The HD refresh makes these games feel as if they only come out within the last year. The stories immense and the amount of child hood hero's and location that appear in the game will literally make you go crazy… in a good way of course. The way I will review the game is by breaking down what it has to offer and then an overall statement.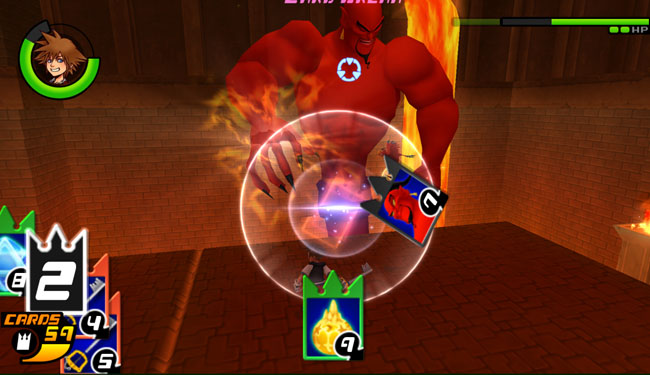 Kingdom Hearts Final Mix
The first game that will appear on the disc is of course the remastered verson of the very frist Kingdom Hearts game. Note that I have personally never played this game before and have heard some many good things about it I was going in expecting a lot… this game didn't disappoint. The game revoles around three kids at first which is Sora, Riku and Kairi. They live on a little island but want to go explore different worlds, little do they know that their adventure will turn out the way it does. A disaster happens that separates the three and that's where the story really begins. Sora then finds out that he is the Keyblade master which basically means he has the power to control a very unique weapon called the keyblade. Along his journey Sora gets two new compains to help you progress through the story but you wouldn't believe who they actaully turn out to be… Fine I will tell you it's the famous Disney heros Donald Duck and Goofy.. that's right. They are also looking for somebody that has gone missing and that person is Mickey Mouse. The game does a tremendous job of mixing Final Fanstay characters with Disney characters. I know that sounds like a weird mix but trust me it works amazingly well. You come arcoss childhood hero/legends and also the iconic location that they come from. Not going to list everyone because I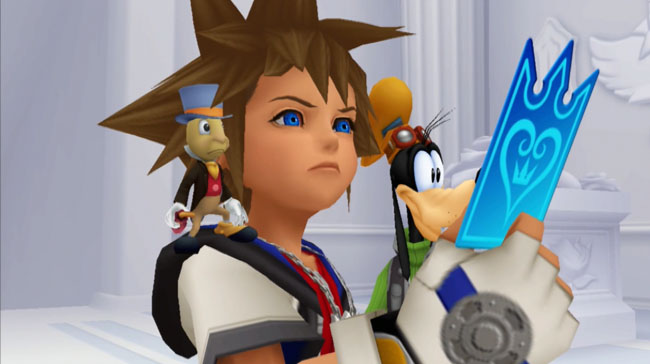 will be here forever so I will just name a few… you meet Peter Pan, Hercules, Tazan and even Ariel. Not only do you meet the heroes and fight alongside them you team up to battle their biggest enemies such as Captain Hook, Queen of Hearts and Clayton.  This personally was like the icing on the cake. I love Disney and this game literally is a Dinsey Wondeland.
The combat is really simple and fluent, you can perform awesome combos that are amazing to watch on screen. You also have the abiltiy at the beginning of the game to choice to be a mage, guard or swordmaster. I personally chose the sword but still got to use magic as well which was awesome. Another out of the blue feature; this game offers is a thing called summons. These can only be used when you have a party of three and are all alive. They allow you to summon other characters from the Disney world to aid you in combat, the two I will spoil for you are Simba and Genie of the Lamp. It makes fighting so much more fun and a whole new experance, this is beacue you fighting alongside iconic character and the fact that they own everything.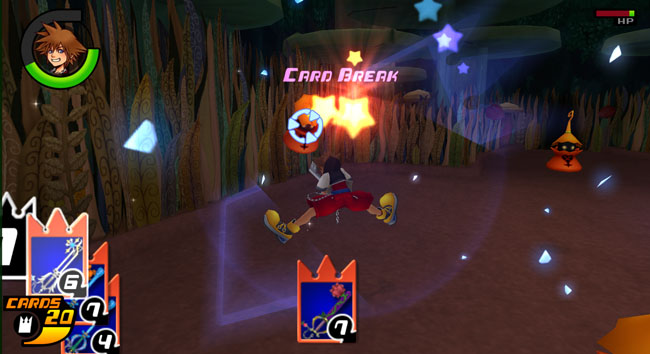 Kingdom Hearts Re:Chain of Memories
Kingdom Hearts Chain of memories is a mix between a role-playing game like the first one but has a extra twist because it a card game as well. This game carries on straight after the events of the first game and work there way to the story in 358/2 days. You still play as Sora as the main protaginst and still see Donald and Goofy but they don't make as much as an appearance in this game as they did in the first one. The game works off cards which is very weird but unqie at the same time. The player has to collect world cards and move card to progress through the game. The story is based around a location called Castle Oblivion which is a kept by Lord Marluxia. The player is then told that the castle causes people that visit to lose their minds from the moment they step foot into the castle but after going through the lobby which is a dull white room the other areas that the player goes into are areas from the first game because they run off Soras memory.
The combat that this games uses is all revoled around a card based system. You will be able to move freely around the battle area and jump but you attack and heal off cards… which is pretty confusing. Another feature that was involed in the combat was if you used all you combat cards you had to reload the deck which takes a few seconds, it delayed the combat but make you think about combat instead of just hack and slashing but personally I prefered the way it was in the first game. You can still perform combos and that by combining the cards that you have but I found hard to do.
The areas were quiet liner and not as open as they was in the first game. But due to the fact that the origanal was on a Game Boy they have done a brillaint job of bringing it to modern system and style.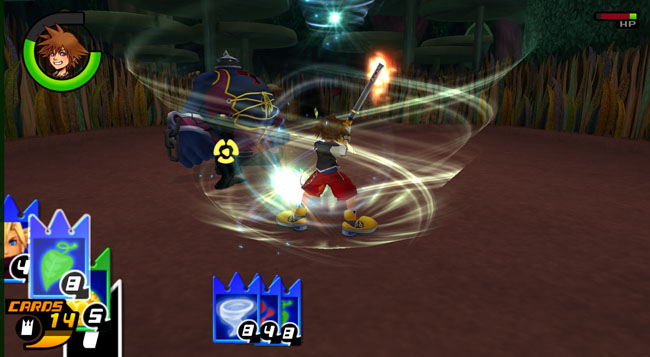 Kingdom Hearts 358/2 Days
This was origanal a portable game that was only playable on the Nintendo DS. Kingdom Hearts 358/2 days is set after Kingdom Hearts 1 and Chain of Memories and ends before the events of Kingdom Hearts 2. The game revoles around Roxas who works for the Organization, who are the main enemy in Chain of memories. He is the only member of the Ozganization that can use and weild the keyblade. The only thing is that the version that is playable on the ReMIX is all the cutscenes from the game, Remastered in HD. Personally I found this a really awesome because it was as if you was watching a Kingdom Heart full length movie. The only bad thing I would have to say is where you have some gaps in the story because that would be where the player would have played the story orginally but this isn't that bad simply because they fill in the blanks with breif text that explains quickly the main things that are happening at the time.
Graphics and Audio
The graphic in the game are completely spectacular. I know it's a HD remake but it bring the game into the modern time and makes it feel as if all three games literally come out like last year as I mentioned above.
The audio is another feature I would like to talk about. Not only does each game have a unqie and amazing soundtrack that goes with the games so well but they orginal voice actors come in to play all the big dogs like Mickey, Donald, Goofy (there are tonnes more but I can't list them all or else this thing would be a scroll). It brings each game to life and gives you that feel that you are actually part of the Disny world and fighting with and alongside all the iconic character.
Positives
+ A great HD remaster, the games never looked so good
+ It has Disney and Final Fantasy characters
+ Audio is amazing to listen to even when not playing the game
+ Powerful and engaging story throughout all three
Negatives
– Slow start to the story but if you went it out it pays off
– Camera can get really annoying and stick from time to time
– Jumping got awkward at certain parts in the game, example Tarzan's World
The game throws the player into an amazing world and a whole new experience if you have played these games before and know what I'm talking about, then get this game because it won't let you down or if you are like me and haven't played or come across this series yet then it's a must buy. Seeing as Kingdom Hearts 3 was announced at E3 this year it would be a good idea to play these games to either get into the story or see if you like the franchise. Sqaure Enix has done themselves proud and this game's getting a well-deserved 5/5.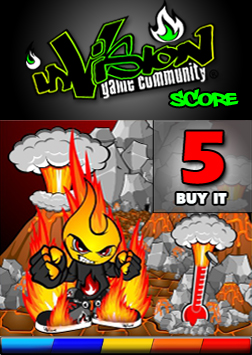 Disclaimer:All scores given within our reviews are based on the artist's personal opinion; this should in no way impede your decision to purchase the game.