It was a dull week and what's a better way to brighten the rainy day up than to play a colourful game, with a unique story and cute characters. As soon as I started The Last Tinker, it was obvious that it was not an ordinary platformer. Mimimi Productions is a game developments studio focused on creating innovative titles with an easy to understand concept. Their latest game The Last Tinker: City of Colors fits in that category perfectly. In Tinkerworld, everything can be made from color, paper and glue. The world needs colors, every single one of them, but the conflict has arrived and inhabitants are all in danger. The City of Colors has been divided into districts, based on each color represented in a game. Except the Outer Districts, where all colors are welcome and that keeps its people normal. If that is not enough, Bleakness is threatening to destroy the whole city. One boy can save the faith of his home world, his name is Koru, he has a face of an ape, and you will guide him through his quest. He is The Last Tinker, the only one who can save the fictional world he lives in.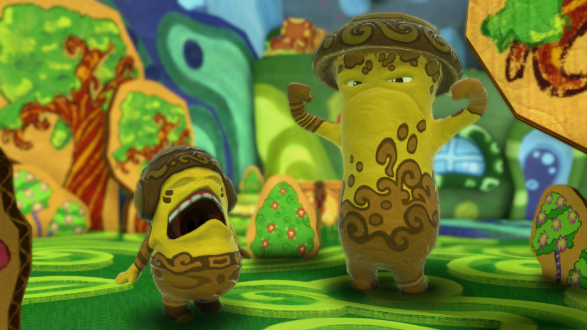 The Menu has all you need to adjust your play style. Full controller support makes things easier, though the keyboard works just fine. The game starts fairly easy, in the Outer District with a quest to compete in the Race. It is kind of a tutorial where you will learn basic controls and how to move around. It ends with such a sad scene, but what follows will show you that not everyone is what they seem to be. This is where the fun starts. The preview version seemed too easy, especially when it came to fighting. The full release proved me wrong, though fighting was still easy enough not to lose a life. It's everything else that brings more challenge to the game. Solving puzzles, escaping from slimy Bleakness and progressing through a map with floating platforms, where you can fall off in a blink of an eye. Fortunately, the save game spots are often and you will not have to go far to reach the place where you fell. You have to guide Koru carefully, and it will all be fine.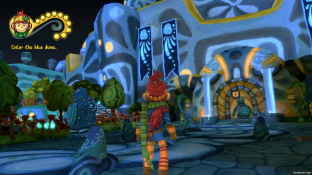 Koru has a friend, Tap, a piggy-like creature that is cute yet rather cheeky and will get you into trouble occasionally. Aside from that, Tap can be used to show you the way through the map and will teach you every control on the way. Monkey-faced boy can walk, run, punch, dodge, jump, slide on the rope and interact with other beings. Sometimes talking to inhabitants is necessary to progress, and on other time Koru will have to lead other creatures to do the tasks. For instance, Biggs has to be guided to stand on mushroom platforms to complete Farmer's quest. Each friend, or foe, you encounter has something to say to you, and this is where the game shows how different personalities has different roles in the world. Being The Last Tinker, Koru is given the power to fight Bleakness and its evil creatures. This power is given to him by Spirits, who are responsible for individual colours.
Visually, it is one of the best cartoon-styled titles I have ever played. The colours can be overwhelming at times, but once you've seen what Bleakness and separation of colours looks like, you will be pleased to arrive back to the place where all colours create a cheerful and vibrant atmosphere. Characters are unique, none of the creatures was cloned, and each had its own features to distinct it from others. You can tell a lot of time and effort had been put into a game design. Although its might seem too bright at first. Sound is OK, though it does get a little annoying when you have to listen to sounds creature's produce. For example one of them can only say me-me-me-me-me-me all the time. Not that it could put me off from playing The Last Tinker. It was more as I was watching some channel for kids, apart from the story which was very deep. All colours are equal, and separating the world in this way is wrong.
When I played the preview version, I just couldn't wait to see what the full title will look like. The waiting was well worth it. It's not very often that a game can keep my interest for long, though City of Colors kept me going for 6 hours in a row. With a cartoony art-style, unique storyline and cute characters, it was more than I hoped for from a platformer. If you like a platform games, mixed with an epic adventure and action, than you should try The Last Tinker: City of Colors for sure.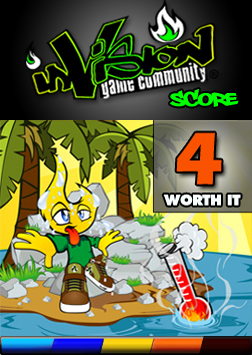 Disclaimer:All scores given within our reviews are based on the artist's personal opinion; this should in no way impede your decision to purchase the game.