Mimimi Productions is a game development studio that focuses on creating unique games. One of those projects is called The Last Tinker: City of Colours. One of the most colourful titles I have ever seen and with a unique concept behind it. Made with Unity engine, it got an award for the "Best Project 2012" of the "Selected Project Contest" at Game Connection Europe 2011. Games might have become too realistic for some gamers, though few titles from independent developers have the look and feel of what a good game should be. Minimi Productions designed one such beautifully handcrafted title and for that, The Last Tinker is a true work of art.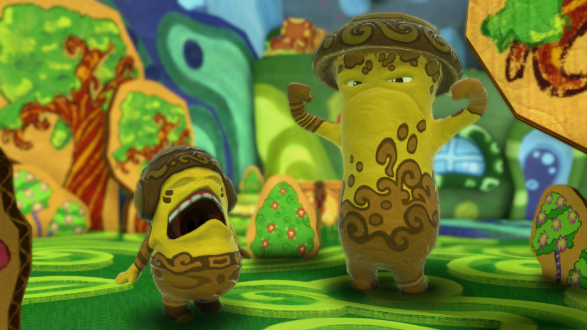 Take a role of Koru, an ape faced boy and dive into a charming Tinkerworld. The colourful world has been threatened by evil guys who want to remove colours, and you have to save it from the Bleakness. The land has been divided into districts, Blue, Red and so on, but it is so wrong to try and divide like that. All colours should be equal is the message this game is trying to get across. Your monkey-like character has a friend, Tap, who is a cute creature helping him find a way through his quests. Koru's power to restore lost properties of colours is the most important weapon you will get to use while fighting The Bleakness. Each colour has both, positive and negative sides. Red, Green and Blue represent all the life in Tinkerworld, and when its citizens some to the dark side and take the path of negativity, they become divided and try to erase any other colour still present in the world.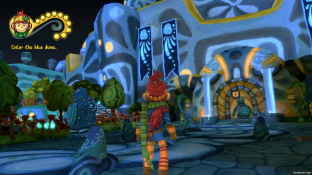 Gameplay has simple controls and combines platformer with puzzle-solving and exploration. Sliding across the rails, jumping over stones, climbing up, defeating bullies and few other elements were available in the preview version. It was to get a grip of controls, even by using keyboard and mouse, thought here is a full controller support. Even the game menu has been handcrafted to match up the art-style of the title. Koru can do more than just jumping across rocks and climbing the branches. For instance, he can whistle to summon a friendly companion which is needed to do certain tasks, such as guiding Biggs to step on the mushroom platforms, or shrinking it to be able to walk under the archway. It might sound too complex, but it is actually quite easy, and tips can be seen all the way through a game.
Combat is simple and seems as it was meant to be that way so you don't spend much time fighting others. After all, this is an adventure where Koru has to save the world and its colours. In this short version, the hardest combat was practice tutorial, the rest was easy enough. Although there are few gameplay modes and I chose "Normal" to see how it goes. It could be that later quests will have more complex battles. It is clear that story will revolve around the districts and the Red one seems to be rather aggressive. Using different colours can be an advantage in fighting. For instance, Green might scare your enemies and clear the way for you to continue with a mission. It feels as if you took a control of your favourite cartoon character. Explore the world of colours and interact with other beings, all while solving out puzzles and fending off evil critters.
Gorgeous, cartoony landscape and its cute inhabitants were all handcrafted to the perfection. With a great focus on details, to represent what good and bad sides of each character represent. Colours might be overwhelming at times, for instance when you are trying to find a path to continue with a quest, but that is the charm of the Tinkerworld. The atmosphere is just playful and all these funny looking critters were so nice and sometimes even humorous. Almost every single one of them has something to say when you come close enough. Cheerful landscape reminds me of a fair, full of light and fun things to do. Sounds just added up to the playful setting.
Preview version was short, especially because I enjoyed the game so much. It clearly shows that the full version will be a stunning work of art, where the most important thing is to have fun and enjoy a unique gaming experience. Anyone who likes their games to be just that, should go for The Last Tinker: City of Colors. In the market where numerous platformers rise every day, this one has an innovative concept and a story trying to tell us how separation will lead to growing apart from each other. I couldn't find a single thing I would like to see changed, though the preview game was too short.