Before we jumo into the review, we must stat that this is our first outing into the game series known as Invizimals, so out of the bag we know nothing about the previous game as such, however we have done some research on the basics. So finally Invizimals finds its way on to the Playstation 3 as a 3D adventure game, the games formula follows what you would expect from its previous outings on the PSP. You play the boy Hero 'Hiro', who has to yet learn the basics of 'DON'T TOUCH', as he removes a tooth from a museum piece. OK you might say that he is adventurous, may be a young Indiana jones type explorer, well he does uncover a Portal to another dimension, the hidden land of the Invizimals.
A wonderful, colorful land that Hiro soon discovers is under attack by an army of robotic creatures, bring on the games main plot, time to take over the world, ok maybe not, time to save the world. So what have these creatures got to do with the game, these so called Invizimals? Well power, unique powers and unique abilities, which they give to Hiro, interesting? Well yes you get the ability to turn into 16 of the most popular creatures and use the skills and abilities to solve puzzles and fight his way through ancient ruins (Look Aztec to us) forests and other zones to save The Lost Kingdom.
Now no adventure game is good without a great story or some sort of story, a main bad guy (like Doctor Eggman) and a load of enemies to be squished. Which we are sorry to say, the story is lacking and it was not memorable in anyway, we could not even recall who the main bad guy was, all we knew was that enemy need to be killed, there was no real character progression apart from being able to use new skills given to our hero by other Invizimals and everything seem to be pretty easy to complete. Now don't get us wrong this game is for a younger audience, however with kids growing up in the digital age and games playing a major role in there development we would have expected more, teaching kids that hard work and determination is rewarded.
To describe Invizimals think Pokémon meets Ben 10, however as you pass through what seems like a load of comparisons the game does come into its own light, with many unique concepts. The controls to the camera where just stupid, some battle I find myself behind an obstacle, could not move the camera in to different position so it was all guess work. If you are lucky enough to have a copy of Invizimals: The Alliance on the PSVITA you can exchange items and fight in a four player arena battles. If you don't have a PSVITA then don't worry about the multi-player options the PS3 version still has online and local play.
OK don't get too excited about this feeling like a Pokémon game you don't actually battle yourself to get new Invizimals, nope, these are done by what developers seem to love nowadays QTE's (quick time events), now these are great to watch, but it would be much better to do it ourselves and beat down the next Invizimal just for the achievement or accomplishment. There be Dragons yay, but nay, you get to fly a dragon, well on a dragon at least that shoots fireballs from its arse "LOL" not really but was fun adding that comment in. You sit on the dragon and you get to target enemies and containers, which seem to fly by way to fast, so trying to concentrate on hitting them all was impossible and the actual control targeting was over sensitive.
So overall the game's opening cut scene is great (Live action), however this is let down repetitive level designs, poor graphics (very basic) and rushed CGI cut scenes that don't work to great. The music is great for each level you enter and it is not in any way annoying like other kids games. Now I have to judge this game for the actual audience the game has been created for, a much younger version of me, say around 6 to 10 years old, in that case this game is great, very basic, works well, fun, not difficult, and hours of fun and adventuring. For the older kids 10years the can go for the 100% achievement trophies, that way they will feel a sense of an accomplishment. I could not recommend this game to a teen or for an adult as most of us know, we are uptight, up our arses, know it all's and want everything to be perfect and more, or we go on social networks and express our dissatisfaction, with words that even your granny would slap us for using.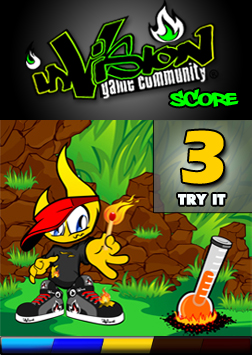 Disclaimer:All scores given within our reviews are based on the artist's personal opinion; this should in no way impede your decision to purchase the game.